ACCREDITATION & MEMBERSHIP
Ensuring a Quality ACA Education…
Alabama Independent School Association (AISA)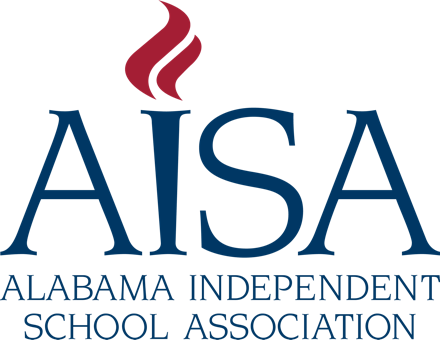 The school holds membership in the Alabama Independent School Association (AISA). The AISA has served independent schools since 1970 by focusing on excellence in academics, athletics, and accreditation and providing member schools and students with services, and programs. Member schools have voluntarily joined the AISA and follow the guidelines and standards in order to provide an effective school program. The AISA annually recognizes schools who have achieved excellence in academics, athletics, and student life with their Blue Ribbon award. ACA has earned AISA Blue Ribbon recognition for sixteen consecutive years.
AdvancED and Southern Association of Colleges and Schools (SACS)
The AISA proudly maintains an agency partnership with AdvancED/SACS and serves as the Lead Agency in this partnership. This partnership allows schools to obtain both AISA and SACS accreditation through one seamless process, with the AISA serving as the managing partner in this process and utilizing AdvancED unique protocols and platforms.
Abbeville Christian Academy is accredited by SACS (Southern Association of Colleges and Schools), the organization responsible for reviewing and providing accreditation for all schools in the southeastern United States. SACS accreditation is designed to help educational institutions boost their ongoing performance efforts for the benefit of their students. SACS insists on a relentless pursuit of excellence – for itself and for the institutions it accredits. This ethic of excellence ensures that institutions will find rich benefits from accreditation and that parents can confidently make informed decisions about their children's education, knowing their child's school is accredited.
Accreditation matters because our students deserve the highest level of educational excellence possible. Educational institutions that engage in SACS accreditation will:
Unite with a global network committed to standards of educational excellence.
Earn the distinction of quality through the recognized seal of SACS accreditation.
Experience a unified, clear, and powerful accreditation process with a scalable and sustainable evaluation of education quality.
Receive external and objective validation of the areas in which they're doing well, and the areas for continuous improvement.
Benefit from SACS research that shapes educational policy and improves learning practices.
Experience a state-of-the-art web-based accreditation system that is continuously being upgraded and improved.
Hear the best available ideas and thinking on education practices and trends through innovative products, educational technologies, and the collective knowledge of peers.
Benefit from shared expertise and powerful professional learning through local and global workshops, training, conferences, and personalized service.